Beavercreek's Leading Pressure Washing Services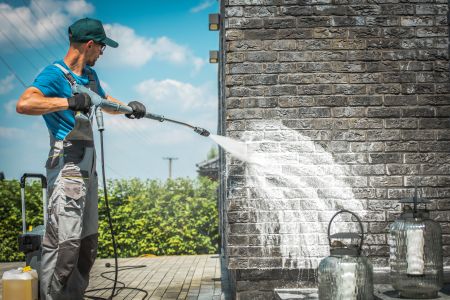 Looking for the best pressure washing services available here in Beavercreek? Well, Salo's Pressure Washing LLC has that in store for you. We have an incredible lineup of pressure washing services all with one common goal: to get your exterior surfaces stain-free, and clean and keep them like that all year long.
Our business is right here in Beavercreek, ready to deliver the best services you can imagine. The main goal of our business is to deliver services and results that will astound and satisfy you. The stains and dirt that are plaguing your surfaces will be gone in a blink of an eye.
We have plenty of services available that will suit your needs. Some of the pressure washing services we offer Beavercreek residents include the following:
Commercial Pressure Washing
Deck & Fence Cleaning
Driveway Washing
Sidewalk Cleaning
And more!
To learn more about the pressure washing services you can invest in, contact our team of professionals today. We can give you all the information you need to better take care of your home. For now, read on to learn more about a couple of our available services.
Getting The Best Roof Cleaning In Beavercreek
Your roof here in Beavercreek deserves quality services that will clean and protect from pollutants and damage. One such service is roof cleaning. Salo's Pressure Washing LLC delivers some of the best services around, including roof cleaning.
What this service does is remove the layers of grime, dirt, muck, and more from the surface of your roof. These pollutants can cause some structural damage to your roof if left unchecked. This is why it is so important to invest in roof cleaning at least once a year to prevent these damages from occurring due to unchecked pollutants.
Learning More About House Washing Services In Beavercreek
Your home here in Beavercreek is likely the most important investment you'll ever make. What better way to protect that investment than receiving house washing services? This service is a top-to-bottom shower for the exterior of your home.
An annual cleaning of your home will ensure that all the stains, grime, dirt, and more are washed away. All that will be left behind is a clean and fresh surface to be proud of. Contact Salo's Pressure Washing LLC in Beavercreek today to learn more about how house washing can benefit you and schedule one for your home in the near future.
There are currently no reviews or testimonials; check back soon!
DON'T WAIT! REQUEST YOUR FREE DAYTON PRESSURE WASHING ESTIMATE NOW!