Sidewalk Cleaning For Safer, Cleaner Dayton Walking Paths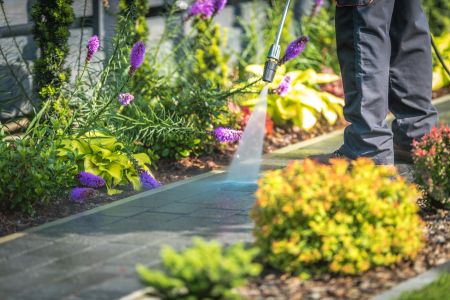 Live in Dayton and are in need of sidewalk cleaning services? Well, Salo's Pressure Washing LLC is here to help. Our business is proud to offer sidewalk cleaning services in addition to our many other pressure washing services.
While it may often be overlooked in regular care and maintenance, sidewalks deserve the same level of treatment and care. Since most sidewalks are made of tough and durable material, they are the perfect candidate for pressure washing. This cleaning method really cuts through the grime and stains, leaving behind a clean and wonderful surface.
In addition to sidewalk cleaning, Salo's Pressure Washing LLC is proud to offer other incredible pressure washing for Dayton residents. Some of these services include:
Roof Cleaning
Commercial Pressure Washing
And More!
Our business is here to help keep your exterior surfaces clean and stain-free. Contact us for more information or to schedule a service for your home or business today. For now, you can read on to learn more about what our sidewalk cleaning services can do for you.
A Cleaner, Safer Walking Experience
Sidewalks see a lot of foot traffic and are always exposed to the elements. With all of this comes pollutants and mess. These pollutants, like grime, dirt, mold, and algae, can cause your sidewalk to look worse over time. These pollutants can even cause your sidewalk to become unsafe for pedestrians and pets.
Don't leave your sidewalk to the whims of mother nature. Invest in sidewalk cleaning today to invest in the health and well-being of your property. The visual appeal of your property will be improved, and your sidewalk will only look better. Contact the team at Salo's Pressure Washing LLC today to learn more about how you can create a cleaner and safer walking experience for those that will set foot on your sidewalks.
If the sidewalks are on the commercial property you own, you'll be happy to learn that Salo's Pressure Washing LLC offers quality commercial pressure washing services for commercial clients.
Walkway Washing
Salo's Pressure Washing LLC offers sidewalk cleaning services for all kinds and styles of walking paths. Whether it's your sidewalk lining your property or a simple walkway a few feet long, our business is more than capable of getting it stain-free and clean.
Contact our team today to learn more about the sidewalk cleaning services we offer and how your property can benefit.
DON'T WAIT! REQUEST YOUR FREE DAYTON PRESSURE WASHING ESTIMATE NOW!