Deck Cleaning & Fence Washing Professionals For Dayton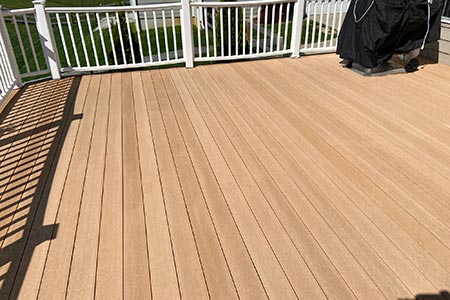 Dayton residents can now invest in deck cleaning and fence washing services right here at Salo's Pressure Washing LLC. Our business is more than happy to offer these two services as a joint offering. You may have a fence, a deck, or both, and we are more than able to get those cleaned up and refreshed for you.
One of the major things we are most proud of is being able to deliver quality pressure washing for Dayton residents near and far. We have an incredible lineup of services in addition to deck cleaning and fence washing. Such services include those such as sidewalk cleaning, driveway washing, and more.
No matter what service you choose, you will be getting the best results possible. Our team is here to help you every step of the way, ensuring your exterior surfaces are clean and perfected.
Our deck and fence washing method of cleaning is a low-pressure soft wash that does not damage the wood. Using high-pressure on wood surfaces can cause damage like scaring and furring. Read on to learn more about deck cleaning and fence washing and what they can mean for you and your property.
Deck Cleaning
Having an outdoor living space is an incredible thing to have. It's the perfect place to host friends and family on a nice summer day. But sometimes, a deck can get pretty messy and stained. This is where Salo's Pressure Washing LLC comes in.
We offer deck cleaning services to help restore and maintain your outdoor living space. All of those stains, grime, mold, and more will be blasted away. All you'll be left with is a perfect surface to host those barbeques and parties.
Our team of professionals will assess the state of your deck and what best pressure washing practice to utilize. No matter the size or material your deck is made of, our team will get the job done right the first time around. Contact us today to schedule a deck cleaning soon.
Fence Washing
Sometimes your fence will look worn down and just a mess. With fence washing by Salo's Pressure Washing LLC, your fence can look brand new and refreshed. Fence washing is the perfect tool to have at your disposal if you're looking to refinish your fence. Pressure washing is sure to blast away all that old chipped paint and give you a clean surface to work with.
Fence washing also helps give your property that little boost it needs to look good and fresh. Be sure to contact us today to schedule a fence washing service.
DON'T WAIT! REQUEST YOUR FREE DAYTON PRESSURE WASHING ESTIMATE NOW!